SGN Sports Extreme Drift Auto Racing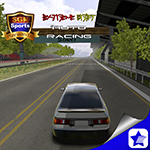 If you miss the days of arcades, but enjoy a good round of drifting, then you're going to love SGN Sports Extreme Drift Auto Racing. Get behind the wheel of sports cars and muscle cars, or even a Police car, and whip yourself around the track as quickly and safely as possible. The better you drift, the more drift coins you'll earn to unlock more cars, and maybe you can beat your opponents and become the drift king on the online leaderboards.




Unlock additional tracks, 5 tracks total.


Unlock cars, 12 total including a Police car.


Compete on Xbox LIVE Leaderboards.


Save your progress.



XBOX Console