Pirate Monkey™ Fruit Shoot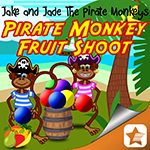 Jake and Jade, your favorite Pirate Monkeys, are back in a new puzzle game! Play as either Jake or Jade. Throw balls into the air. If you connect with two or more other balls of the same color they will pop away. Any balls that are not touching other objects will fall away. Some balls have a piece of fruit, these are the object of the game. When they fall or pop, a piece of fruit will parachute down to the ground. Collect the amount of fruit that the level requires to win the level.

Destroying or dropping balls of a certain color will count towards earning a power-up. Watch as the tanks on the left fill up. Once full, they will glow signifying you have earned that power-up. Make sure you use them as they will disappear at the end of the level.

Can you help Jake and Jade collect as much fruit as they can?


100 Levels.


Four differnt power-ups.



XBOX Console
Android
Windows 10 PC